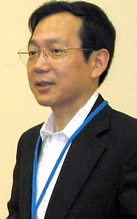 Yuzuru Takeuchi was born on June 25, 1958, in Kyoto city, Japan.
In 1971, Mr.Takeuchi passed the entrance examination of St.Viator Rakusei Junior and Senior High School, one of the most prominent mission schools in Japan. When he was a first year student at the junior high school, he joined the school baseball club and up until the third year of the senior high school, he had been recognized as an outstanding player on his team. During his senior high school days, his team went on to play in the quarterfinal game of Kyoto prefecture.
In 1978 Mr.Takeuchi entered the law department of Kyoto University majoring in administrative law. He not only studied law, but also politics, history, sociology, literature, philosophy, economics, finance, science, and so on.
After graduation, Mr.Takeuchi joined The Sanwa Bank Ltd. (now The Mitsubishi Tokyo Ufj Bank Ltd.), as an executive trainee. He was engaged in various departments, for example: loans, analyzing the economic conditions, marketing, and large urban developments. In 1990, he took office as acting director of the department of large urban developments.
Mr.Takeuchi was first elected as a Member of the House of Representatives in 1993 from the First District of Kyoto Prefecture under a multi-seat electoral system. During his first term, he belonged to the standing committee on financial affairs. He was recognized as a promising and controversial statesman. However, in the general election in 1996, he failed to win a seat in the single-seat district.
In 1999 Mr.Takeuchi was elected as a member of the Kyoto City Assembly, Kamigyo District of Kyoto City. After reelection in 2003, he was appointed as the Chairperson to the Financial Affairs Committee. He has proposed many kinds of policies for Kyoto City and most of them have been implemented. He was a very important person in the Kyoto City Assembly.
In 2009, he was re-elected as a Member of the House of Representatives.
Thirteen years have passed since he lost his seat in the House of Representatives. Currently, he is the vice chairperson for the Diet policy committee, NEW KOMEITO. He belongs to the standing committee on financial affairs and the standing committee on land, infrastructure, transport and tourism committee.
Recently , he has been appointed as a director for the special committee on abductions by North Korea.