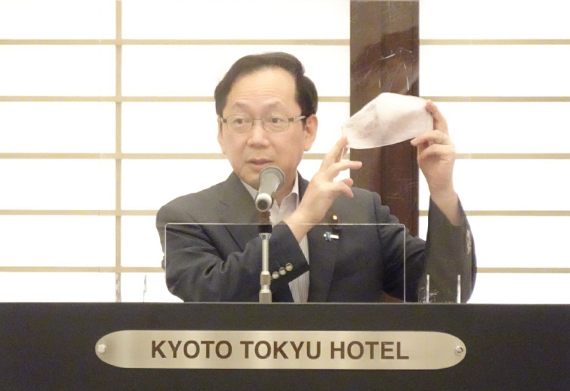 The nature of the coronavirus pandemic knows no bounds. It could be said that human greed created the novel coronavirus, which is considered to live in wild animals on the outskirts of Wuhan, China. Chinafs inland urban development areas have destroyed the natural environment of wild animals, which might have brought on the spread of coronavirus. On the other hand, some media outlets point out that the Chinese government puts an emphasis on traditional Chinese medicines made of herbs or wild animals, adhering to Chinese medicines alongside Western medicines in the fight against the coronavirus pandemic.
Globalism (global economy) has surely accelerated the spread of the novel coronavirus and the worldfs economies have further deepened mutual dependence on China as the worldfs factory. Without components made in China, developed countries canft manufacture their products.
Furthermore, Japan imports around 420 million face masks per month from China. They account for 70% of the demand in Japan. The coronavirus pandemic might be warning against human greed and globalism.
On April 17, the Japanese government declared the second gState of Emergencyh for all prefectures, and as a consequence, people had to reduce contact by 80% with others throughout Japan. It should take about one year to develop an anti-coronavirus vaccine or medicine. We must stay at home, work remotely, use online learning and remote medical services for a long period of time, which should nudge us into changing our habits and sense of values.
People around the world are paying attention to gSocial Distancingh. In my opinion, there is no denying that civilization has developed through gatherings. For example, religion, festivals, politics, schools, factories and companies. However, gSocial Distancingh may reform civilization.
Even if coronavirus vaccines are developed, the human race will still need to continue gSocial Distancingh. Since the 21st century, we have already faced two dangerous coronaviruses, gSARSh and gMERSh. Going forward, unknown viruses will repeatedly emerge and threaten the human race. We canft help but transitioning to a gSocial Distancingh civilization.
By Yuzuru Takeuchi