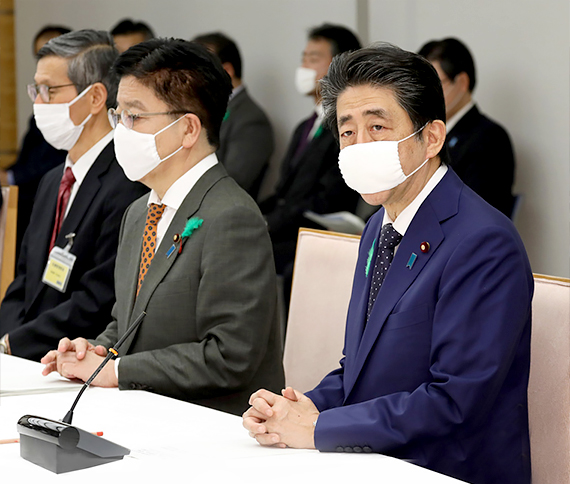 As of April 11, coronavirus infections around the world topped 1.5 million people in 185 countries, with a death toll over 100,000.
One month earlier, on March 11, the number of cases were around 119,000, with fatalities near 4,300. This disease broke out in Wuhan, China last December and has rapidly spread throughout the world. As a consequence, it has become an unprecedented catastrophe.
Specifically in the U.S., where the number of cases topped 500,000, with over 18,000 fatalities, making it the worst affected country in the world. It has been reported that medical system in the U.S., Italy, Spain and France, have already collapsed due to an gOvershooth - meaning an explosion in infections that doubles every two or three days. These nations have implemented gLockdownsh which is a containment strategy for specific areas and cities. However, it will take a while before this policy is deemed effective.
On April 9, Prime Minister Abe finally declared a gState of Emergencyh for 7 prefectures (Tokyo, Kanagawa, Saitama, Chiba, Osaka, Hyogo and Fukuoka) beginning April 10 until May 6 based on a newly enacted emergency law. This law is intended to suppress the sharp increase of cases, in particular, those of unknown transmission routes.
As of today, there are 5,902 confirmed cases and 94 fatalities in Japan. Although this is not necessarily as bad as the U.S. or Europe, Mr. Abe announced the emergency to prevent Japanfs medical system from collapsing. In accordance with advice of epidemiologists, Mr. Abe requested people to reduce 70 to 80% of contact with others, and avoid the 3Cs, that is crowded spaces with poor ventilation, crowded conditions, and conversations in close proximity. Mr. Abe underlines this as a type of gSocial Distancingh as an important countermeasure against COVID-19. gSocial Distancingh usually means keeping 2 meters apart from everyone.
Tokyo Metropolitan governor, KOIKE Yuriko states that Tokyo is on the brink of crisis regarding gOvershooth. She requested citizens to stay at home, and business sectors to close their stores except those necessary for daily lives from April 11 until May 6.
However, these countermeasures for this new emergency law are only requests with no enforcement mechanisms. This is attributed to the remorse of wartime fascism that imposed harsh restriction on freedoms. Whether Japan can control the COVID-19 pandemic depends on the self-awareness of every person in Japan.
On the other hand, it is extremely difficult to reduce 80% contact with others. The government should therefore secure sufficient funds to protect peoplefs lives and livelihoods from the COVID-19 threat. We are waging war against the coronavirus pandemic. The government must not hold back funds for fiscal reconstruction.
By Yuzuru Takeuchi