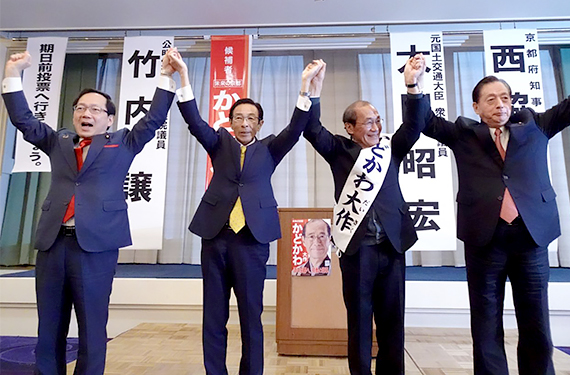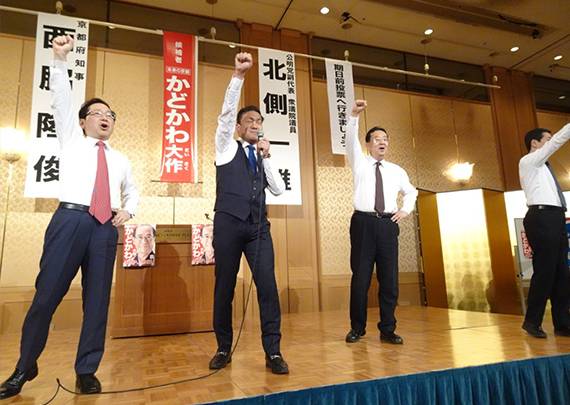 Time and time again, Kyoto City mayoral elections have been a bitter battle between candidates recommended by the ruling bloc of the Kyoto City assembly and by the Japan Communist Party (JCP).
At present, the fixed membership of the Kyoto City assembly is 67. The ruling bloc, which consists of 21 Liberal Democratic Party (LDP) members, 10 from KOMEITO, 6 from Democratic Civil Forum (DCF), while the opposition bloc makes up 19 from JCP, 5 from Kyoto Party, and 11 from others.
During the chaotic post-war period, the Japan Communist Party gained favor in Kyoto Prefecture and were able to win the first post-war gubernatorial election. Mr. Ninagawa, backed by the JCP, had continued winning elections, serving seven terms and spent 28 years as the governor of Kyoto Prefecture. Under this advantageous circumstance, the JCP founded many hospitals, welfare facilities, labor unions, and associations of commerce and industry. This is how the JCP established their power in Kyoto City.
The 2020 Kyoto City mayoral election began from January 19 to February 2. This time, three candidates ran for mayor; Mr. KADOKAWA, the incumbent mayor, and two newcomers from the JCP and the Kyoto Party (local party).
The Kyoto Party candidate is younger (41), proposing reform policies that could siphon support from the incumbent mayor. As a consequence, the possibility of the JCP's win has come to the forefront.
Kyoto City is the former Capitol of Japan (A.D. 794 ~1868) and is famous for its many historical architectural designs such as temples and shrines which include national treasures and world heritages. If the JCP prevails the 2020 Kyoto City Mayoral election, it would be no exaggeration to say "Communist Revolution".
The incumbent, Mr. KADOKAWA was endorsed by the LDP, KOMEITO, NDP, CDP and SDP, and the JCP criticizes our coalition as five-party backing". Surely, in the Diet, the LDP and KOMEITO are the ruling bloc, whereas, the NDP, CDP and SDP are the oppositions.
The purpose of a local government is to improve people's welfare. From this point of view, it is both reasonable and practical to think that both the ruling parties and the oppositions in the Diet can support the same mayor in local politics.
We must not fail to win this election.
UPDATE: The incumbent Mayor, Mr. KADOKAWA won the election on February 2. The candidate backed by the JCP and REIWA Party was defeated, however, these two parties unprecedentedly expanded their election campaigns by including internet tools such as Twitter, Facebook and so forth. Their use of Twitter was especially clever and powerful and was able to influence the younger generation voters.
As the ruling party, we also have to research the best way of using various internet tools for future election campaigns.
By Yuzuru Takeuchi