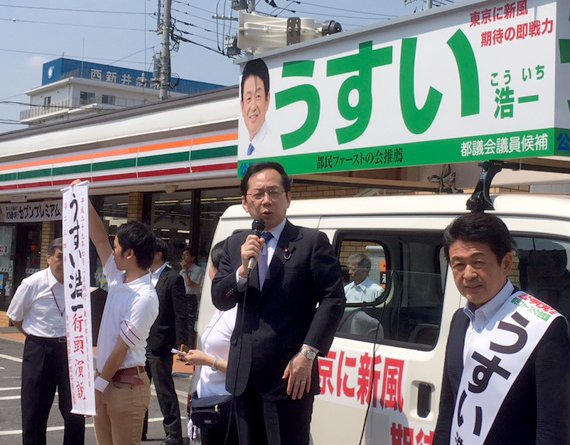 The LDP was unprecedentedly defeated in the Tokyo Metropolitan Assembly Election on July 2, winning only 23 seats, their worst result, and less than half of their pre-vote presence. Governor Yuriko Koike's party "Tomin First no Kai" and its allies including the KOMEITO won a landslide victory, taking 79 seats of the 127-member Tokyo Metropolitan Assembly.
I think that the most important cause of the LDP's defeat was the failure of the Abe administration itself, such as the suspicion over cronyism for his friend's school, "Kakei Gakuen", gaffes by the SDF Minister Inada Tomomi, Diet Member Toyoda Mayuko's violence against her secretary, and so on.
Just before voting day, Prime Minister Abe gave a speech on a street corner to support a candidate for the Tokyo Metropolitan Assembly, and there happened to be a demonstration asking for his resignation. Upon hearing the protest, Mr. Abe suddenly said that he will never fail to surrender to such people, however, this incurred public censure of the Abe Cabinet. As a result, its approval rate fell sharply from 50% to 30%.
The KOMEITO, the ruling coalition on the national level, decided to cooperate with "Tomin First no Kai" in the Tokyo Metropolitan Assembly Election, and was able to maintain their seats, getting 23 the same as their pre-vote presence. This was the another reason for the LDP's defeat.
On the other hand, the opposition Democratic Party decreased 10 seats from 15 to 5, while the Japan Communist Party increased only 2 seats from 17 to 19. Most people in Tokyo didn't have the desire to convert to the DP and the JCP regime.
Nevertheless, it won't be easy for Mr. Abe to recover from his approval rate. He is eager to realize the revision of the Constitution, especially Article 9, by 2020. But, if his approval rate continues, the Constitutional Amendment will be difficult.
What most people want is a raise in their wages by overcoming deflation and an economic recovery, and to have the hope in their livelihoods by further developing social security and child care.
By Yuzuru Takeuchi