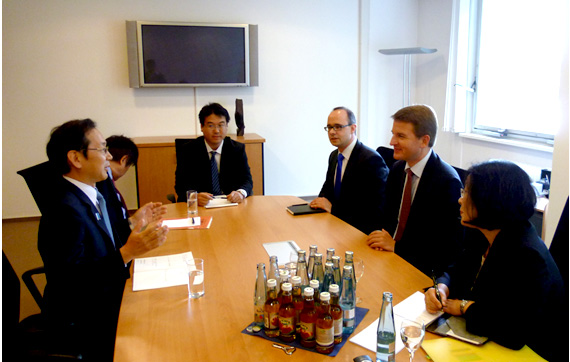 [Photo] Meeting with Mr. Rocholl, President of European School of Management and Technology(ESMT)
Article 9 of Japan's Constitution is famous for the " Renunciation of War ". This interpretation of article 9 states that Japan has the right of self-defense, but is not allowed to exercise the right of collective self-defense which is authorized in international laws. The Japanese government has maintained this interpretation for over 60 years since the enforcement of the Constitution; however, Prime Minister Abe is eager for his Cabinet to reinterpret article 9 giving Japan the ability to exercise the right of collective self-defense.
Mr. Abe and his group think that the security situation in the East Asia region has changed and become strained due to threats by China and North Korea, prompting Japan to strengthen the Japan-U.S. alliance through the reinterpretation of article 9. However, the Cabinet Legislation Bureau is prudent in the reinterpretation of article 9. Mr. Yamaguchi, the NEW KOMEITO leader, has warned that the government should politely explain the reason for the reinterpretation and consider its' impact on the international community, in particular, on East Asian nations.
Article 9 was realized based on deep reflection of World War II and has been supported as a "fortress for peace" for over 60 years by most of the Japanese population. If the Abe Cabinet allows for the exercise of collective self-defense, Japan will be obligated to go to war for the allied nations despite no direct attack on Japan from a third country. This will change the direction and the shape of Japan considerably as a peaceful nation. This point is extremely important; however, it may go unnoticed by most of the Japanese people.
The schedule Mr. Abe wants is as follows: In April, the Prime Minister's private panel will propose a security report to Mr. Abe. Subsequently, a discussion regarding this issue will start between the LDP and NEW KOMEITO, and if an agreement by both parties is reached, Mr. Abe will try to secure Cabinet approval for the reinterpretation of Article 9 until the end of summer. Afterwards, the Cabinet decision will be deliberated in the Diet, since revisions of related laws will be needed for the Self-Defense Forces to act according to a new interpretation.
Nevertheless, there are a few opponents, not only in the NEW KOMEITO, but also in the LDP. It is indispensable for Mr. Abe to have sufficient discussion with the ruling parties and to propose the disputed points to the Japanese people through Diet deliberations paying careful attention to public opinion.
By Yuzuru Takeuchi