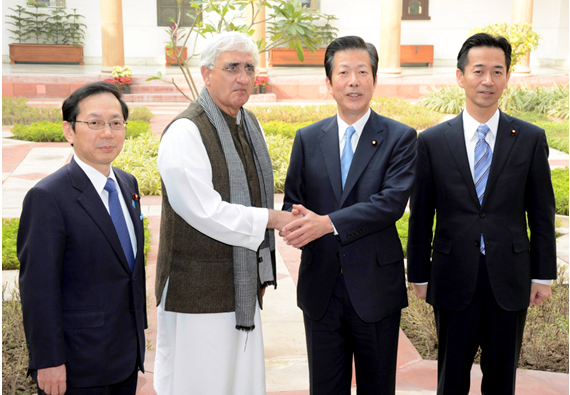 [Photo] Meeting with Mr. Salman Khurshid, Minister of External Affairs of India (2014/1/6)
Mr. Yamaguchi, the NEW KOMEITO leader and member of the House of Councilors, Mr. Okamoto and myself, vice directors of the international office of the NEW KOMEITO and members of the House of Representatives were invited to India by the Indian government from January 5 to 12, 2014.
His and Hers Imperial Majesty visited India last November for the first time in 50 years and subsequently, Prime Minister Abe participated in the Republic Day ceremony of India as a chief guest on January 26. It is obvious that the Indian government has been putting an emphasis on the Japan-India relationship.
While in India, we had a conference with Prime Minister Manmohan Shin and other VIPs, and agreed to strengthen cooperation in terms of economy and education for both countries. Mr. Shin emphasized that he understands the political role and achievements of the NEW KOMEITO in the past 50 years since its establishment, and the grass root network, consisting of about 3,000 local assembly members is wonderful.
The Indian economy has developed tremendously and its GDP average rate during the past 10 years is 8.6%, while the inflation rate is at the same level as the GDP rate. About 30 years ago, SUZUKI motors, the Japanese automobile manufacturer, has built factories and started to supply vehicles in Delhi, and as a result, now there are many traffic jams occurring everywhere in Indian cities. The IT industries are strong in India but other manufacturing industries are still weak prompting the Indian government's desire to develop Japanese enterprises, particularly in electronics so to encourage investment in India. In Delhi, the Japanese government(JICA) financed about 60% of the construction for the underground railway that currently consists of 190 km, and will expand to 300 km by 2017.
A caste system still remains in India, however, Indian society is based on liberalism and democracy, and therefore, if a person succeeds in business, or receives a good education, that person will have nothing to do with discrimination. I think that India will continue to grow just as China did in the next 15 years with the assistance of Japan and that Japan will need to rethink its foreign affairs from a new point of view.
By Yuzuru Takeuchi