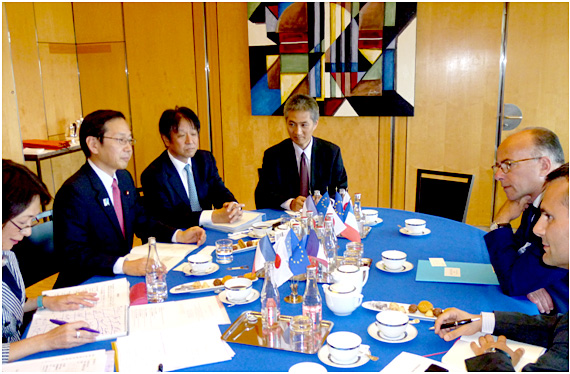 [Photo] Meeting with French Minister in charge of Budget B.Cazeneuve in Paris
(2013/8/20)
The most important issue facing the Japanese economy is to achieve both recovery from deflation and fiscal reconstruction.
Prime Minister Shinzo Abe has prudently discussed if recovery from deflation is possible in spite of a rise in the consumption tax rate. The annual GDP ratio from April to June was 3.8% and other economic indicators and indexes have performed well. On October 1, 2013, Mr. Abe decided to raise the consumption tax rate from 5% to 8% starting April 2014.
The purpose of the consumption tax hike is to secure financial resources for the increasing costs in social security, which leads to a lower issuance of national bonds that currently stand at 700 trillion yen.
On the other hand, after the consumption tax hike, it is thought that consumption and investment will fall flat for a while. Therefore, in order to overcome deflation, the government has established an economic package consisting of 1 trillion yen for tax reduction, and 5 trillion yen for the supplementary budget.
Most domestic and foreign economists appreciate this decision; however, a few in the media doubt that if the government spends 5 trillion yen on a supplementary budget (a level of 2% consumption tax rate ), a 3% hike will be ineffective for fiscal consolidation.
However, funds from this economic package are not from the consumption tax hike, but instead, from the surplus remaining from 2012 and the increase from 2013 original tax revenue.
Forthcoming challenges Japan faces are whether raising the consumption tax rate from 8% to 10% in October 2015 and introducing reduced tax rate for foods, newspaper etc., are possible.
New Komeito insists on the introduction of a consumption tax rate reduction system for low incomers when the rate reaches 10%. This is a controversial issue between the LDP and the New Komeito, but on December 12 after overnight deliberations, both parties agreed to introduce this system while the standard consumption tax rate is 10% on condition securing the financial resources and an understanding from tax payment companies.
The economic management of the Japanese government is being watched around the world.
By Yuzuru Takeuchi