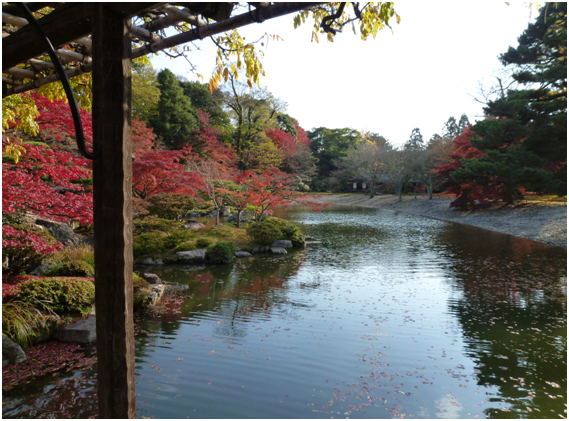 [Photo] Sento Imperial Palace In Kyoto
After a change in regime and the introduction of " Abenomics ", the term coined for the economic policies of the Abe administration, the yen has dropped back to the level of 93 against the dollar from 79, and the Nikkei average has risen from the level of 8,000 to 12,000.
Abenomics consists of three points; the first is a bold monetary easing policy by the BOJ, second is a fiscal policy majoring in public works projects, and third is a strategy of economic growth including deregulation of medical care and agriculture. These policies have been branded "The Three Arrows ".
Prime Minister Shinzo Abe especially urged the BOJ to increase the monetary base much further than the previous administration setting up a " 2% inflation target policy ", which has been surprisingly effective to the stock and foreign exchange markets.
Inflation target policies have already been adopted by the FRB in the U.S. and several central banks in other countries. However, it is the first time for the BOJ to implement such a policy.
This social and economic experiment undertaken by the government has resulted in success, and the atmosphere of society has undoubtedly been improving. Exporting companies have rapidly increased profits by the yen's depreciation and stock price appreciation. As a result, capital investment will soon follow.
The most important point is whether enterprises can raise pay levels for employees. Mr. Abe knows this well and recently requested the Federation of Economic Organization to increase recompense.
Without raising pay levels, the 2% inflation policy would make labors suffer. However, if several companies actually begin to raise pay levels, then this trend will spread gradually, leading to an increase in consumption.
Thus, I am convinced that this monetary easing policy originated from Milton Freedman, fiscal policy originated from John Maynard Keynes and innovation policy originated from Joseph A Schumpeter, and these policies are indispensable for Japan to overcome deflation.
Yuzuru Takeuchi