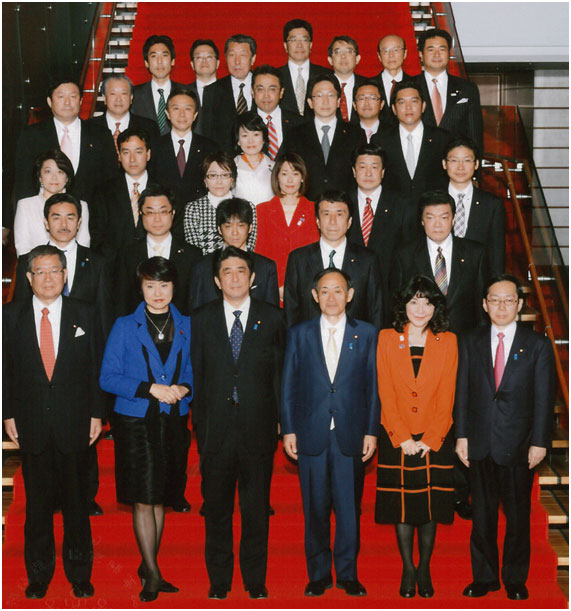 [Photo] The Parliamentary Secretaries(Abe Cabinet)
On December 16, 2012, the DPJ was defeated in the general election as I had forecasted, with the LDP winning a landslide victory and the NEW KOMEITO, increasing 10 seats from 21 to 31.
Before the election, several new parties were suddenly established, such as the Japan Restoration Party led by former Tokyo Governor Shintaro Ishihara and Osaka Mayor Toru Hashimoto, and the Tomorrow Party headed by Yukiko Kada and Ichiro Ozawa. However, this new "Third Force" could not expand as largely as expected. The reason being that these new parties could not show a clear political philosophy since their leaders had different ideas with each other but forcibly united anyway for victory in the election.
The new coalition government has faced with many problems and concerns, such as deflation of the economy, the Senkaku Islands, nuclear power generation, the TPP, and so on.
The most urgent of these problems is the reconstruction of the Japan economy. Especially, regional economies and small-medium companies are still facing severe economic conditions.
The new government has already urged the BOJ to ease money supplies and will increase public works projects to defend peoples'livelihoods from disaster, which will in turn, expand domestic demands and lead to reconstruction from deflation.
I was elected third in this election and this was my first appointment as a parliamentary official for the Financial Minister in the Abe Cabinet. I will use this position for development of peoples' livelihoods.