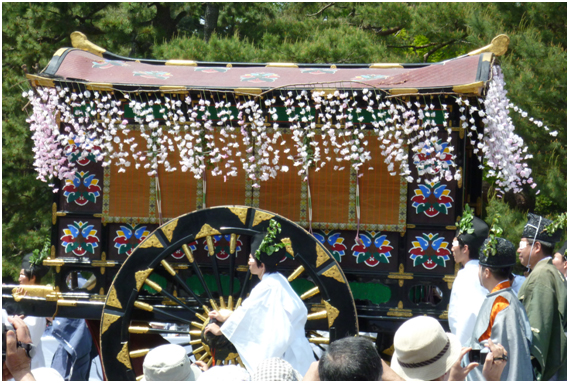 [Photo] The Aoi Festival in Kyoto
Many people are beginning to doubt the quality of Prime Minister Naoto Kan.
After the earthquake and tsunami, his leadership has often confused people, especially in terms of the Fukushima nuclear power plant accident.
It was reported that he has been irritated with the Fukushima situation, and explored with anger to others around him.
If this is true, I think he lacks the quality of a Prime Minister.
The Prime Minister has the highest status and supreme power in Japan and he is required to overcome his weaknesses and be calm and bold whatever happens.
The fiscal 2011 first supplementary budget has been delayed and has not been submitted to the Diet.
The decision speed of the DPJ government is very slow compared to that of the LDP in the massive Hanshin Awaji earthquake.
It seems that a lot of bureaucrats are surprised by the slow decisions of the DPJ government and hesitate to propose new ideas since the government tends to escape from taking responsibility for their decisions.
The Ozawa group insists that Prime Minister Naoto Kan should resign soon.
The President of the LDP, Sadakazu Tanigaki believes that if Prime Minister Naoto Kan resigns, the LDP might enter into the ruling parties.
Moreover, on April 10, the DPJ was defeated in the nationwide local election, which resulted in losing power.
However, it is true that the opposition party has had difficulties in presenting censure motion against the Kan Cabinet because of the Fukushima nuclear power plant accident.
Therefore, for the meanwhile, the ruling and the opposition party are forced to cooperate in the aftermath of the earthquake.