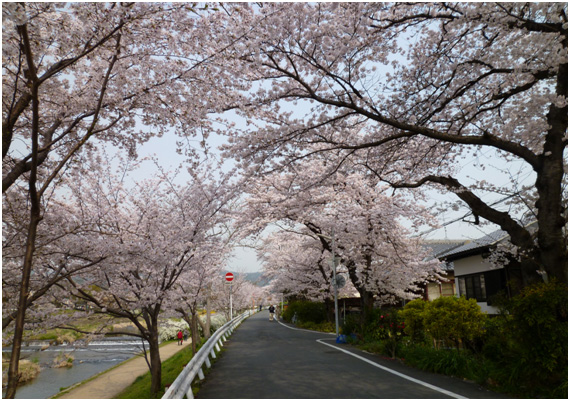 [Photo] Cherry blossoms along the Kamo River in Kyoto
On March 11 2011, a massive earthquake rocked the Tohoku region which measured a magnitude of 9.0, the fourth largest in human history.
Soon after a huge "tsunami" hit the coast and more than 20 thousand people may have lost their lives.
Moreover, the nuclear power plant in Fukushima prefecture was damaged by the earthquake and tsunami, and a series of serious accidents occurred.
Prime Minister Naoto Kan and the DPJ government must organize a relief effort and bring food, water, oil and medicine to the area of disaster as quickly as possible.
The Japanese economy has sharply worsened, for example stock prices have fallen below nine thousand and the yen has risen to 79 against the dollar.
If the government cannot correctly manage the Fukushima nuclear power plant accident, the Japanese economy will lose credibility abroad.
Political circumstances have dramatically changed.
Before the earthquake, Prime Minister Naoto Kan had been under the severe political pressure and the DPJ government was looking to be "knocked out" by the LDP and NEW KOMEITO in the near future.
However, after the earthquake, the atmosphere changed and the ruling and the opposition parties need to cooperate to overcome such an unprecedented crisis.
The political struggle entered armistice.
It will probably take a long time and a lot of money for the government to support the lives of people struck by the quake and reconstruct infrastructure of these areas.
Therefore the next general election will be postponed indefinitely.
Japan was unfortunately struck by a massive earthquake, but Prime Minister Naoto Kan was helped by the disaster, which is the most miserable tragedy for Japan.